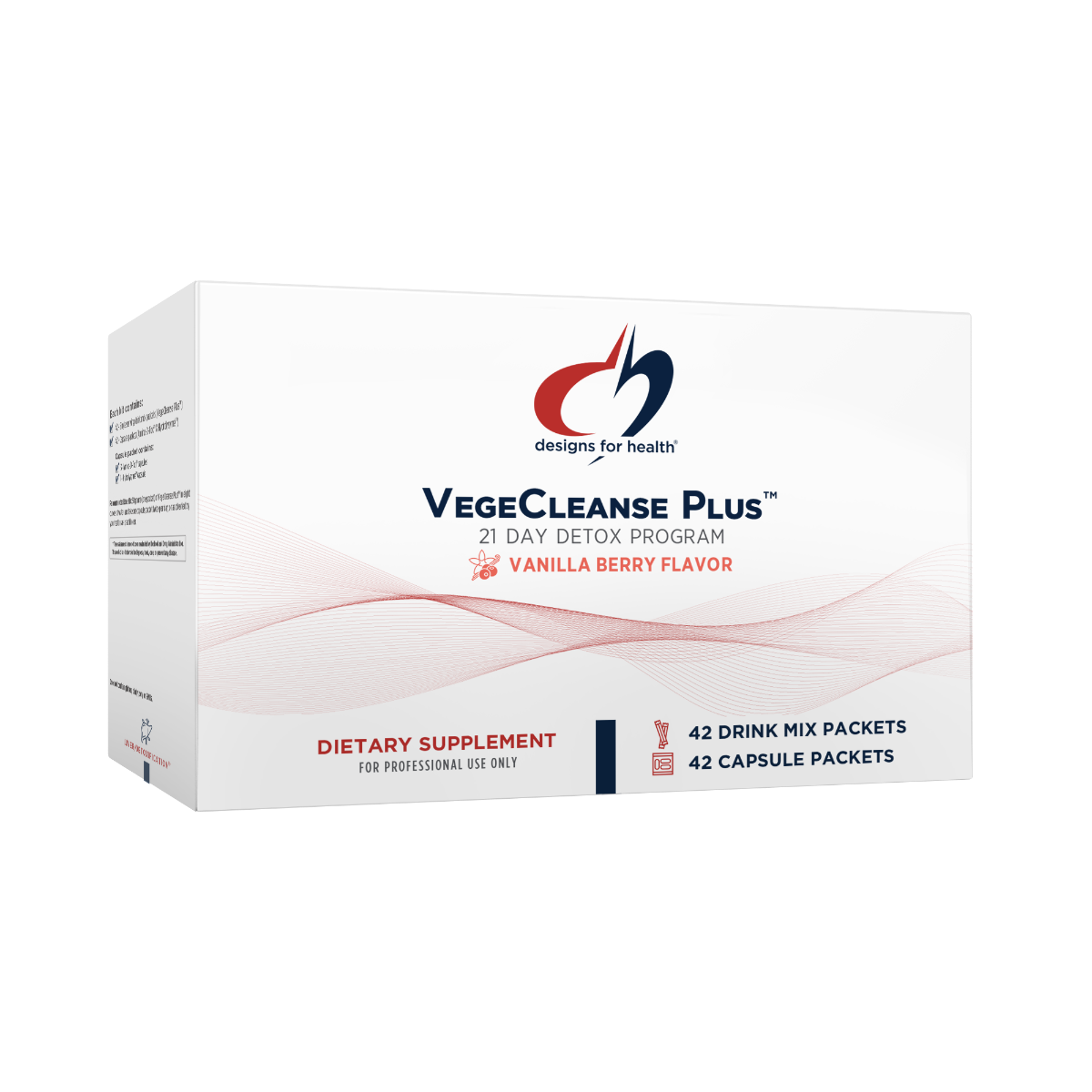 https://www.designsforhealth.com/api/library-assets/patient-education—vegecleanse-plus
What contributes to toxin buildup?
We are exposed to toxins every day. In fact, our bodies produce waste toxins known as endogenous toxins simply by functioning. Our bodies also encounter external(exogenous) toxins, or chemicals made outside the body. Exposure to these toxins can overburden a systems natural ability to detoxify.
Why do we need Metabolic Detoxification?
Toxins can contribute to fatigue or difficulty sleeping, and digestion and other temporarily gastrointestinal upset, food cravings and weight gain, reduced mental clarity, low libido, skin issues and joint discomfort.
What is Metabolic Detoxification?
It's a series of natural biochemical processes responsible for clearing toxins from our bodies. In the three phase process, the body Unlocks fat soluble toxins and converse them to a water-soluble state that is easier for a bodies to remove. We need key nutrients and phytonutrients to support each of these phases.
Nutrition is important during Metabolic Detoxification. The detoxification system is highly dependent on proper nutrient support for optimal functioning. This detox provides significant amounts of protein and key amino acids including those required for conjugation enzymes/fees to enzymes. It's a good source of fiber magnesium among other vital nutrients. Fasting or poor nutritional support during a detoxification program has many adverse health effects, including decreased energy production, brain fog, mood and sleep difficulties and a breakdown of lean tissue. Detoxification is an energy dependent process and maintenance of adequate energy supply is crucial.
GET YOUR BODY MOVING – GET YOUR "GET UP AND GO" BACK CLICK BELOW TO GET YOUR DETOXIFICATIONS PATHWAYS SUPPORTED. ORDER DIRECT FROM THE MANUFACTURER WHERE SUPPLEMENTS ARE SURE TO BE KEPT IN OPTIMUM CONDITIONS AND THE PERFECT ENVIRONMENT.
https://www.designsforhealth.com/u/CHRISTINEGARVEY?utm_source=vdispensary-link&utm_medium=portal&utm_campaign=Well+World
Detoxification:
VEGECLEANSE PLUS DETOX PROGRAM is a easy to follow and highly supportive 21 day program.This is a comprehensive, science-based nutritional program designed to support safe and effective detoxification. This is accomplished by providing the nutrients needed to support and balance phase I and phase II metabolic pathways and to promote healthy liver function and elimination.* Everything is consolidated into packets to make the program easy to follow and ensure that individuals on the program do not miss any necessary nutrients. VegeCleanse Plus is a functional food powder that contains a comprehensive combination of nutrients, antioxidants, herbs, fiber, and fruit and vegetable extracts to support healthy detoxification.*. In the best of times, the body requires appropriate nutritional support for effective functioning of the liver's detoxification mechanisms.
In the modern era of unavoidable environmental pollution, increased mental and physiological stress, and the degraded nutrient density of the food supply, even when following a nutritious, whole-foods diet, the body may require higher amounts of the particular amino acids, minerals, and other factors necessary for detoxification than we can typically get from food alone. VegeCleanse Plus is designed to aid the body's defenses against xenobiotics, pollutants and other harmful substances, as well as against remnants of pharmaceutical drugs, excess steroid hormones, and the byproducts of normal, healthy metabolism. It is specifically formulated to support both phase I and phase II of detoxification in the liver.
This is important because detoxification is a two-step process, and some of the products created during phase I may still be somewhat harmful to the body, even though this is a normal, natural process. These intermediate products need to be broken down further during phase II, so if these phases are out of sync, the phase I products may build up and overwhelm the body's capacity to take them through phase II. The ingredients in VegeCleanse Plus help to balance these two processes.
You may be accustomed to thinking about "light" or plant-based foods, such as fruits and vegetables, as being important for healthy detoxification. And while these are beneficial, detoxification also requires a generous supply of amino acids, which are the building blocks of protein, and thus are derived from protein. This product features pea protein, which is less allergenic and easier to digest than some other proteins, such as soy, whey or casein. VegeCleanse Plus also provides fiber and nutrients helpful for stimulating bile production. These aid in supporting intestinal and colonic function, which facilitates normal excretion, the final step in eliminating detoxified compounds from the body.